Payment Proof
| | | | |
| --- | --- | --- | --- |
| No. | Date | Payment Proof | Amount |
| 6 | 24 Feb 2012 | | US$3.00 |
| 5 | 24 Oct 2011 | | US$3.00 |
| 4 | 13 Jun 2011 | | US$5.15 |
| 3 | 21 Feb 2011 | | US$3.00 |
| 2 | 25 Dec 2010 | | US$3.00 |
| 1 | 8 Nov 2010 | | US$3.00 |
Brief Overview
EasyHits4U was launched in 2003 by Relmax, Inc. For the past few years, it has consistently topped the manual traffic exchange rankings. The success of EasyHits4U is mainly attributed to its 20 sec timer with 1:1 surf ratio, $0.30 for every 1000 sites surfed and geo-targetting features. With a large user base of 390,000, you can be sure that your websites are receiving unique hits.
Instructions
Once you have signed up and logged into EasyHits4U, you can click on "Start Surfing (1:1, 20 sec)" at the top to start surfing. You will see the surfbar at the top of the window. You have to wait 15s or 20s before moving to the next site. Wait till the timer changes to "Go", then click on a duplicate picture. If you see a set of two words or numbers, the system is asking you to perform a simple calculation. Just pick the answer for the given equation.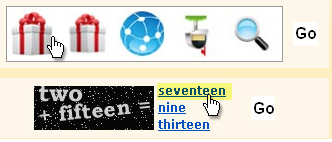 A prize page as shown below would appear on every 25 pages and 50 pages for the first 100 pages and next 400 pages surfed that day respectively. Please click on "Claim Your Prize Now" before clicking on the corresponding answer on the top left hand corner to proceed.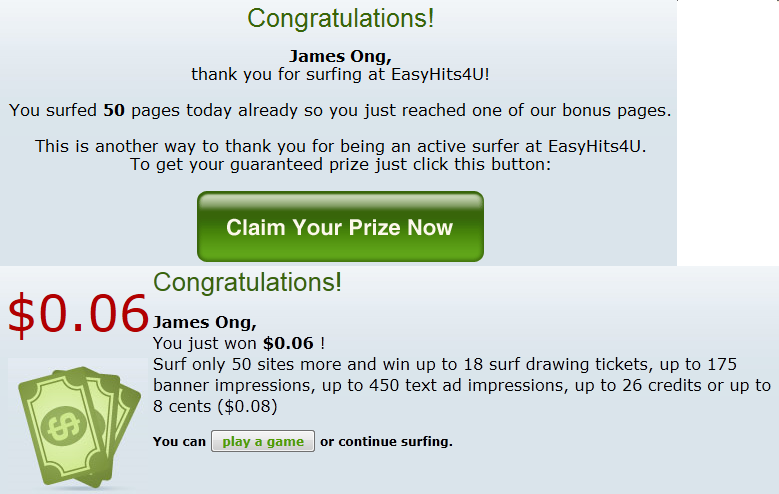 You can view your surf history and the number of credits, banner impressions and text ad impressions by clicking on "Statistics" at the top menu in Member Area.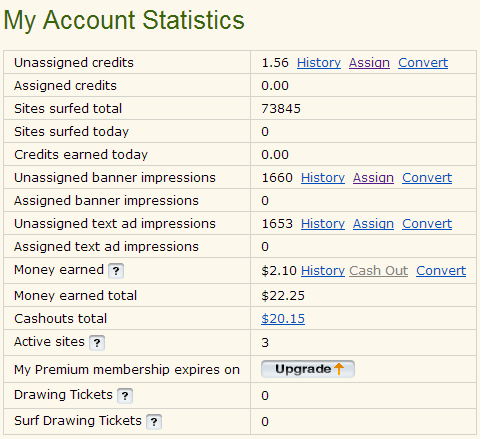 You can change your account information and Auto-assign ratio by clicking on "Settings" at the top menu in Member Area. Note that Auto-assign ratio is the percentage of credits (excluding bonus credits) that you want the system to assign to your websites automatically.
You can add your websites and assign credits to your websites by clicking on "My Sites" at the left menu in Member Area. Similarly, you can You can add your banners or text ads and assign banner or text impressions to your banners by clicking on "My Banners" and "My Text Ads" respectively.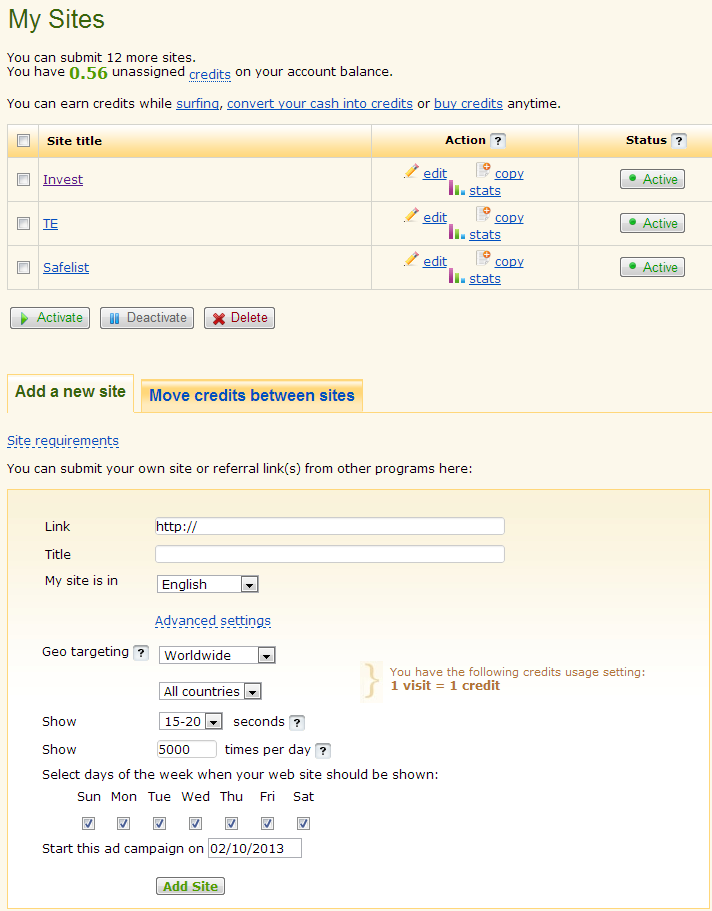 Referrals
EasyHits4U has a 5-tier referral program (10%, 5%, 3%, 2%, 1%). That means that you'll receive 10% of credits earned by your 1st level referrals, 5% of redits earned by your 2nd level referrals and so on through 5 tiers. In addition, you will receive $0.10 for every person you refer that surfs at least 100 sites. You would also receive a sign up bonus of 50 free credits and 500 text ad impressions after you surf your first 50 sites.
Cashouts
Minimum cashout is $3 and takes within 5-7 business days to process. EasyHits4U accepts Payza and Paypal for cashouts.