ClixSense Review

Payment Proof
| | | | |
| --- | --- | --- | --- |
| No. | Date | Payment Proof | Amount |
| 7 | 11 May 2013 | | US$5.88 |
| 6 | 26 Jan 2013 | | US$5.95 |
| 5 | 9 Oct 2012 | | US$6.03 |
| 4 | 15 May 2012 | | US$5.88 |
| 3 | 6 Feb 2012 | | US$5.75 |
| 2 | 17 Oct 2011 | | US$9.50 |
| 1 | 25 Apr 2011 | | US$9.58 |
Brief Overview
ClixSense was launched on 29 Dec 2006. To date, it has paid out more than $1,000,000. It is also the longest lasting paid-to-click site and payments are always made promptly upon request.
Earnings
The following are the earning rates for both Free member and Premium member.

Account Management
Below is overview of account management when you logged in. Here, you can monitor your earnings.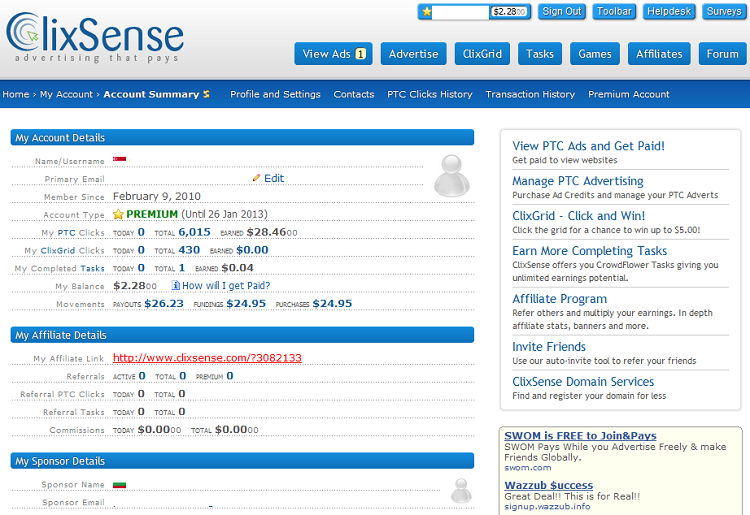 Instructions for Earnings
1. Click on "View Ads" at the first box under "My Account Overview".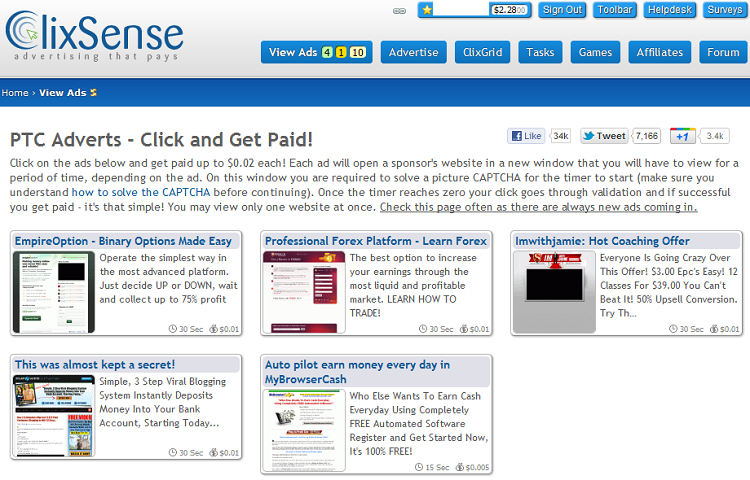 2. Click on the link at each ad. Another window will be opened, you will be required to click on the cat image before the countdown timer at the top left hand corner starts to count. After the timer has finished counting down from 30s to 0s, a message stating that account credited will appear and you have earned that amount stated in ClixSense for that click.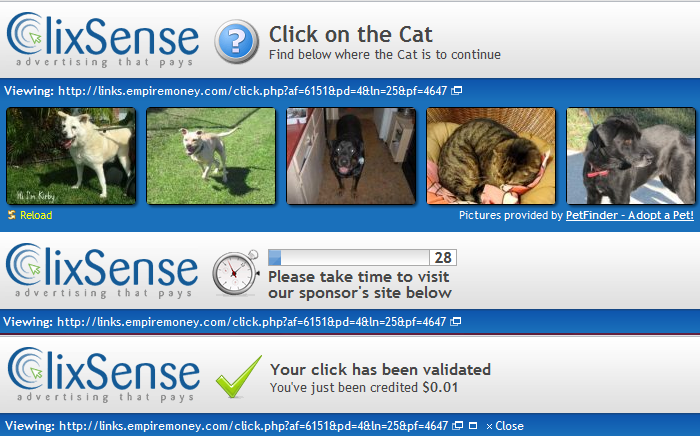 3. Close the ad window and repeat step 2 and 3 for the subsequent ads. (No need to refresh the page).
4. After all ads are clicked, refresh the page and you should see the ads disappeared. That means all ads clicks have been credited. In the event that there are still ads, repeat the steps 2 to 3 again for that ads.
5. You may come back to click on the same ads again every 24 hours.
6. There are also tasks that you can complete in ClixSense to increase your earnings.
Cashouts
You can cashout once your account reaches $8. Payment will be sent out every Monday and Friday. ClixSense accepts Payza and Paypal for cashouts.